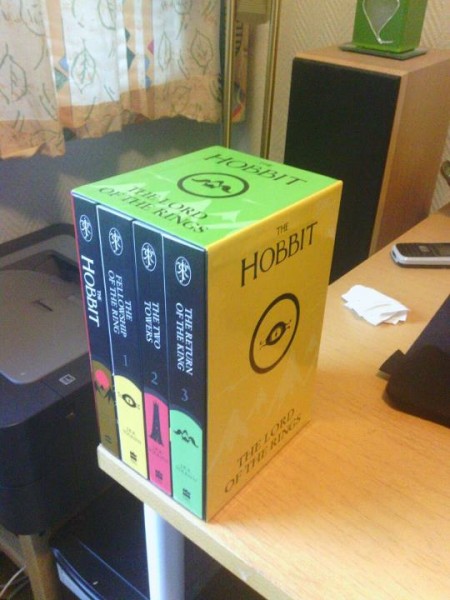 Nokken har alt fått det med seg, men de siste ukene har eg lest The Lord of the Rings (LotR). For ett år siden hadde det vert fullstendig utenkelig for meg å lese den, men gjennom mange gode kvelder, mange lange kvelder, har eg til en viss grad fått bygd opp "leseferdigheten" min. Det er i form av utholdenhet, før klarte eg ikkje engang lese i 10 min før eg måtte se opp av boka og ta en pause. Det er i form av vokabular, i starten måtte eg stadig vekk slå opp ord for å få med meg sammenhenger. Det er i form av lesehastighet, som ved årets start var svært lav, men stadig har forbedra seg.
Lenge stod LotR for meg som et fantastisk verk (eg hørte både Hobbiten og Ringenes Herre på lydbok i mine yngre dager), men et uoverkommelig verk. Eg hadde forestilt meg at eg aldri kom til å kunne lese den. Etter at eg leste The name of the wind i februar/mars i år (bok på 700 sider) uten større problemer, så såg ting litt lysere ut. Siden den gang har eg lest bok 2 i serien til Mr. Rothfuss, The wise man's fear, på sine 1000 sider, og hele serien om Earthsea til Ursula LeGuin, på drøye 1200 sider. Det begynner med andre ord å bli ganske mange sider litteratur på meg i år, og dermed såg eg mitt snitt til å lese Tolkiens fantastiske verk.
Eg varma opp til herligheten med å lese The Hobbit. Nydelig historie, den bruker så mange klassiske fortellingselement at det nesten var klisjéer. En sann fryd. Videre gikk eg over på de tre klassiske delene av LotR. Alt i alt brukte eg 46 dager på å lese meg gjennom LotR, med sine 1031 sider. Sjøl har eg vert svært godt fornøyd med progresjonen. Med tanke på at eg begynte å lese bøkene mens eg hadde fulltidsjobb som anleggsgartner, og hang ganske mye i Arna, og starten på studier og laboratoriekurs, så er eg svært fornøyd.
Det er en ting man ikkje kommer unna når man leser bøker det er laga filmer om: man sammenligner. Eg prøvde mitt beste gjennom hele boka, men eg har enkelte ankepunkt der eg syns Jackson har tatt seg litt vel store kunstneriske friheter. Mange av tingene kan eg forstå, men bokelskere liker jo å se filmer som er så tett opp mot bøkene som mulig.
Tidsperspektivene i filmene er veldig fordreide. For eksempel, hvor lenge var Frodo og de andre i Rivendell før de drog videre? I filmen er det gjort på en scene med Frodo og Bilbo, en scene med Aragorn og Arwen og en scene med Elronds råd (pluss litt diverse). I bøkene: Når følget kom til Rivendell sendte Elrond ut speidere som var vekke i månedsvis før de kom tilbake, og først DÅ hadde de Elronds råd.
Når man diskuterer boka opp mot filmene er det en ting man ikkje kommer unna: Kor blei det av Tom Bombadill?
Den generelle stemningen i boka endrer seg på en helt annen måte enn i filmene. Peter Jackson, tidligere kjent for splatterfilmer, har laga filmene til å ha en dunkel og dyster stemning stort sett over hele fjøla (bortsett fra The Shire før de reiser, i Rivendell, og etter at ringen er ødelagt (beklager spoiler)). I boka er stemningen mye mer dynamisk, Frodo og kompaniet har mange fine stunder gjennom hele boka, men den generelle stemningen blir gjevnt og trutt mørkere etterhvert som de nærmer seg Mordor. Dette er virkelig bra gjort av Tolkien. Kontrasten fra turen til Frodo og Sam gjennom Mordor til tiden i Ithilien etter at oppdraget var utført … vakkert!
Generelt sett merka eg at eg sammenligna mest gjennom The fellowship of the ring, siden eg har sett den filmen klart flere ganger enn de to andre filmene. Det er sikkert flere ting eg har tenkt på mens eg leste bøkene, men eg kommer ikkje på mer akkurat no. Still spørsmål i kommentarfeltet om det er andre ting om min opplevelse av å lese LotR du ønsker å vite.
One Ring to rule them all, One Ring to find them,
One Ring to bring them all and in the darkness bind them